Welcome to the CSO of TUC
General information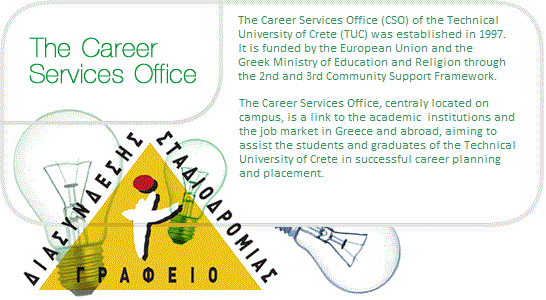 There are three main divisions in the Career Services Office. The first one provides information and counselling in education matters. The second division gathers factual information from the world of work, and supports students and alumni in their career development. The third division of entrepreneurship aims at making the entrepreneurial activity known to the students and alumni as an alternative option to their career path.
SERVICES
The main services of the Career Services Office are the following:
Provides information and guidance for students and graduates on postgraduate studies in Greek and foreign universities, scholarships and seminars.
Gathers and disseminates information about available job positions, companies' profiles and trends of the job market.
Provides guidance on related skills such as resume writing, interviewing techniques, job search techniques and career planning.
Provides information to firms and organizations regarding the profile of the graduates of the university.
Provides information on writing a business plan, entrepreneurship funding, networking and other tools in order to help the development of entrepreneurial activity.
Supports collaboration networks with other academic institutions and employment organizations in Greece and abroad.
Develops mechanisms in order to inform the University community on current labour market trends and on career prospects for the graduates of T.U.C.
In order to achieve its goals, the Career Services Office:
publishes and distributes a variety of booklets on career and job placement matters
develops data bases which include information on company profiles and job positions
provides information tools and material, using the Career Resources Library and its web page
facilitates participation in and organization of seminars, conferences and exhibitions
conducts studies on the employability of the graduates in the labour market
collaborates with the departments of TUC, other universities, the Technical Chamber of Greece, educational and employment organizations in Greece and abroad.
PERSONNEL
Evangelos Grigoroudis: Project Leader,

Professor of the Department of Production Engineering and Management,

Technical University of Crete
Tel: 28210 37346, email: egrigoroudis<at>tuc.gr
Vassiliki F. Paggeiou: Head of Career Services Office,

Production and Management Engineer, MSc in Engineering Management,

Technical University of Crete
Tel: 28210 37331, e-mail: vpaggeiou<at>tuc.gr, career-center<at>tuc.gr
Trikounaki Antonia: Student Services and Information

, BSc in Business Administration (AUEB), MSc in Technology and Innovation Management (ΜΤΙΜ- TUC)
Tel: 28210 37332, e-mail: atrikounaki<at>tuc.gr
Afentakis Nikolaos

,

Information Systems Support

, Diploma in Production Engineering and Management, Technical University of Crete
Τel: 28210 37330, e-mail: nafentakis<at>tuc.gr